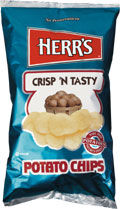 Herr's Wiki is a Nottingham, Pennsylvania based collaborative website about snack foods, including potato chips, pretzels, popcorn, and cheese curls. Also, our website in wiki version makes it able to edit and has more capability to have more space than our normal website. I hope you like it! --Ed Herr, founder
It's a free, fun-filled morning or afternoon of educational tid-bits, technological wizardry, and tasty little morsels your family will savor for years to come.
There's no fake machinery or actors - it's the REAL factory, the REAL workers, and the REAL process Herr's® has perfected to make their products taste REALLY great. Our tour is a first hand learning experience that includes visual methods that's sure to impress children and adults alike. You'll never forget the little-known facts, like how a pretzel gets its brown color, or what makes a great chipping potato, and how tortilla chips get their seasoning.
Before each tour we'll give you the inside scoop on the history of Herr's®. We'll also introduce you to the group of zany characters who will be your on-screen "tour guides" for the rest of your visit. It's just our way of giving each guest a warm Herr's® welcome.
Your class is sure to have an unforgettable and exciting experience at our factory tour. The personal guide and accompanying videos make it the perfect teaching tool for large groups.
Come for the tour and stay for lunch. You're going to have a hard time choosing from our fun menu of great tasting food. And you'll find that our lunchroom is large enough for your group.
Once you've taken the information - packed tour, don't forget to check out the fun and useful souvenirs and quality merchandise available in our gift shop area. All of your favorite Herr's® products are available for purchase in the gift shop.
Monday - Thursday 9 AM to 11 AM and 1 PM to 3 PM
Fridays 9 AM to 11 AM
(cannot guarantee production running on Friday)
All tours take approximately one hour.
When scheduling, please indicate the time of day (on the hour) you wish to take your tour.
Community content is available under
CC-BY-SA
unless otherwise noted.